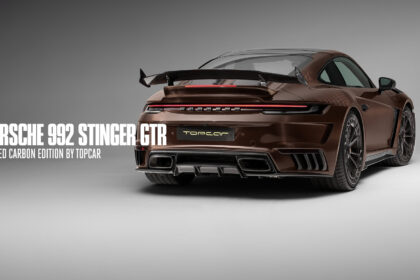 One more exclusive limited edition project by TopCar Design. 1 of 13 Porsche 992 Stinger GTR Limited Carbon Edition.
The exterior modification includes 84 details made of 4 layers of carbon fiber with exclusive chocolate color.
The sound and performance of the car are improved by our Kline Innovation Inconel 625 exhaust system. Lightweight and proper sound design. OEM electric valve compatible system – everything plug & play.
Removal of the OPF and catalysts, and replacing them with either HJS motorsport catalysts, or De-cat pipes, opens the sound up significantly, complementing and accentuating the high pitched silencer section, into an exotic scream. The Kline innovation rear valvetronic setup, means that the car can be driven in stealth mode with the valves closed, however a raw unhindered sound can be achieved with valves open. Addition of our beautifully crafted F1 grade Pre Preg carbon fiber exhaust tips complemets the exhaust perfectly.
All the parts are made from Inconel 625. The system can be ordered with 100 cell/200cell HJS cat pipes, and also DECAT pipes. The system is available for both OPF and Non OPF models.
Inside the car has got a new redesigned interior in black and brown colors with an abundance of carbon fiber details.